Fun, Affordable Boat Rentals in Panama City Beach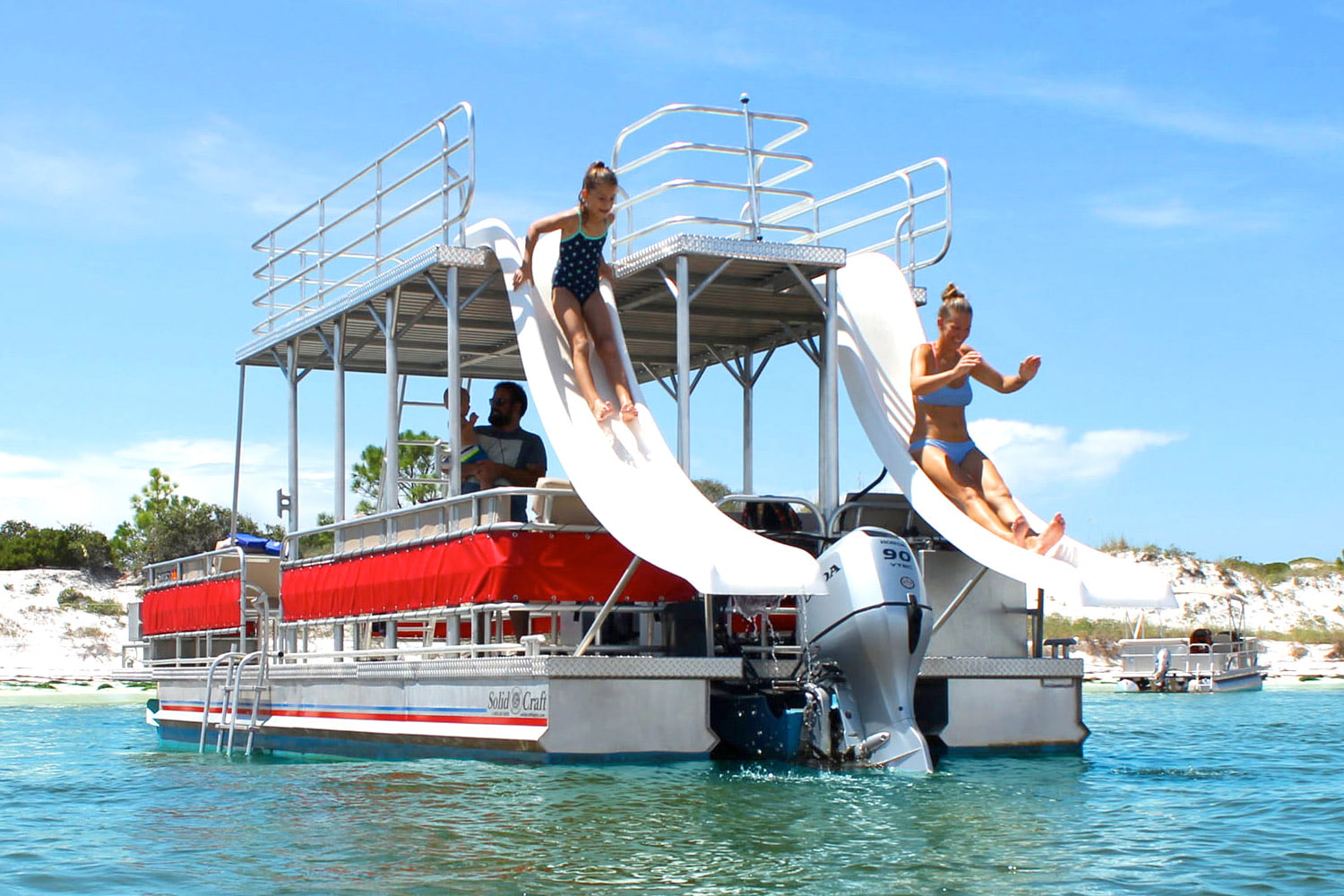 If you're like most vacationers, the thought of being at the ocean or on the bay without a boat is intolerable; however, like 99% of the population, the exorbitant costs of boat ownership have kept you from enjoying the "sea-captain" life you've always dreamt of.
Let's face it: between work and family and finances, it's often impossible to find the extra money to purchase a boat.
And between all the maintenance costs, just paying for gas can get expensive.
But now there's a solution that's affordable, hassle-free, close to home, and super fun for kids and adults! With Shell Island Shuttle Boat Rentals, you'll discover how to enjoy all the benefits of owning a boat in Panama City—without the expense.
Explore the Breathtaking Beaches and Beautiful Waters of Shell Island
When was the last time you enjoyed a fun boating adventure complete with crystal-clear waters, friends, family, views, and lovely beaches? Be honest…it was way too long, wasn't it? Even Natives of Panama City Beach often find themselves stuck in a work/home rut.
Isn't it time to break up the monotony of your daily routine with a day trip to PCB's famous Shell Island, conveniently located within St. Andrews State Park?
Of course, it is! With this kind of natural beauty so close to your fingertips, it would be hard to figure out why NOT to go!
Choose to be the captain of your own pontoon rental, and you'll have the time of your life with your loved ones as you adventure through breathtaking waters while dolphins cavort in your wake.
And after your boat ride, explore some of the many pristine beaches and collect one-of-a-kind shells to bring back as a memento.
Whether you're looking to fish, sight-see with family, get your daily workout on the water, or enjoy a day trip with friends, Shell Island Shuttle, also located inside St. Andrews State Park, has the boats and equipment ready for your enjoyment.
How To Rent Your Boat from Shell Island Shuttle
Renting a boat with Shell Island Shuttle is as easy as 1-2-3.
First: Take a moment to peruse the website for the official shuttle service in Panama City Beach. On the site, you'll find tons of stunning pictures, products, boat types and rental information, places to explore, location, directions, and more.
Second: Check out our article [place the "what to bring article" link here] on visiting Shell Island, and decide how long you want to stay on the island (day or half day) and which boats you'd prefer to rent. You also might want to read this helpful FAQ for renting pontoon boats. It will answer all your questions before you go and will guarantee a stress-free and relaxing day at beautiful Shell Island.
Third: Once you are ready to book a pontoon, you can call us at (850) 630-1278, reserve a boat online, (simply press the "reserve your boat today" button at the top of the page), or come see us in person at the St. Andrews State Park boat ramp. See directions here, or punch in the following GPS coordinates to find the exact location: GPS:  N 30 7.963; W 85 43.880.
Just remember, if you want to be the captain of your own boat, you must be at least 21 years of age and must procure your boating license if your date of birth is after 1988. If you were born before 1988, you do not need a license to operate a pontoon boat.
Call now or go online to reserve your one-of-a-kind adventure with family and friends. Isn't it time to try something new and exciting?